Who are Pocketful of Stones?

The team (Shaun Bebington, Balazs Schieber, Paul Motley and Mike Cunliffe) all worked and lived together in bars in central London. They learned lots about spirits and fell in love with their rich history.  Abandoning the crowds of London for the wilds of Cornwall, they are now pouring all that experience into Pocketful of Stones.
Label.co.uk spoke to Shaun Bebington, Co-founder, Pocketful of Stones about why they use their labels on Pocketful of Stones products.  Shaun comments "the main reason I would recommend label.co.uk is for ease of use" 
Shaun and the Pocketful of Stones team have used label.co.uk for some time now and have been pleased with the results.  Their very first label was for Caspyn Dry Gin.  Pocketful of Stones were looking for something to stand out from the crowd and used a high build varnish which was what 'initially sold it to them' 
Since then, Pocketful of Stones have many Gin variations including the brand new Dr Squid brand with a unique black colour of the gin.  For this, Pocketful of Stones have turned to using label.co.uk's embossing and using a Gold Foil to create a special label to compliment the copper tin it is served from.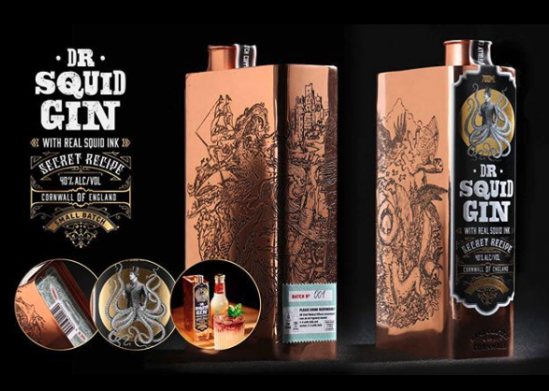 Customer Service
Being able to make multiple orders with ease is key in a business like Shaun and the team's at Pocketful of Stones.  Having great customer service and communications is key.  Shaun finally comments "everything was explained clearly and in detail and the speed of service was very good" 
Ara Balde, Customer Services executive, Label.co.uk comments "we love working with Shaun and the team and are always interested in what designs they will come up with for their products"
If you are interested in trying the Dr Squid or any other product from Pocketful of Stones, you can visit their website today or follow them on Instagram or Facebook
For further information about the different foils label.co.uk have on offer click here or read about the different finishing options like Embossing, double-hit printing.  or for extra security measures Tamper Proof labels .  Alternatively, give their customer services team a call on 020 3588 1080 or send a message here